What would a smart device experience be like in a hotel or communal living space?

A virtual concierge service allowing guests to connect with hospitality owners and employees during their stay with various features and tools to enhance their experience within a smart device system. It is designed to be a simple and intuitive experience within the hospitality world, by creating a meaningful connection for guests and enhance new opportunities for employees. This digital experience connects the whole journey of checking-in/out and having access to services and resources provided to explore new spaces during their stay.
Role

Product Lead + Designer

UX/UI

Design Research

Branding & Identity




TOOLS

Adobe XD, Indesign, Illustrator, Photoshop




Categories

Ui/ Visual

Typography

Branding & IdentitY
---
CONCEPT MISSION STATEMENT
To build an experience that is shared by interchangeable users to interact with the services and resources provided during their stay.
WHO:
Digital Smart Design + Lodging Facilities
WHAT:
Simple and Easy access to information and services
WHY:
To Seek, Enhance, and Embrace
WHERE:
Lodging Establishments, Paid Living Quarters, Communal Travelers Space
---
PERSONAL RESEARCH
Through this research, I was investigating the needs that both Employees and guests in comparison to the way people live with smart home devices. To think about how we can incorporate the way people are living in smart homes with sharing these devices with more with one user.
RESEARCH AND SURVEY
Asked an audience to fill a survey and reflect on their interaction within the hospitality world; interacting in a temporarily "home".
EXAMPLE OF HOTELS MISSION STATEMENTS

Hilton–

"To be the most hospitable company in the world–

by creating heartfelt experiences for Guests, meaningful opportunities for Team Members,

high value for Owners and a positive impact in our Communities."

Ace Hotel–

"Ace Hotel is a collection of individuals, multiple and inclusive,

seeking to embrace the cities

we're in by building spaces for collective gathering. Whether thoughtfully reinterpreting historic buildings or imagining radical new structures, our aim is always to

make something energized, human and useful.

"

Airbnb– "

Airbnb's mission is to

help create a world where you can belong anywhere and where people can live in a place,

instead of just traveling to it."
Visual recognition
voice recognition
Chatbot–Messaging
USER EXPERIENCE PERSONAS

USER JOURNEY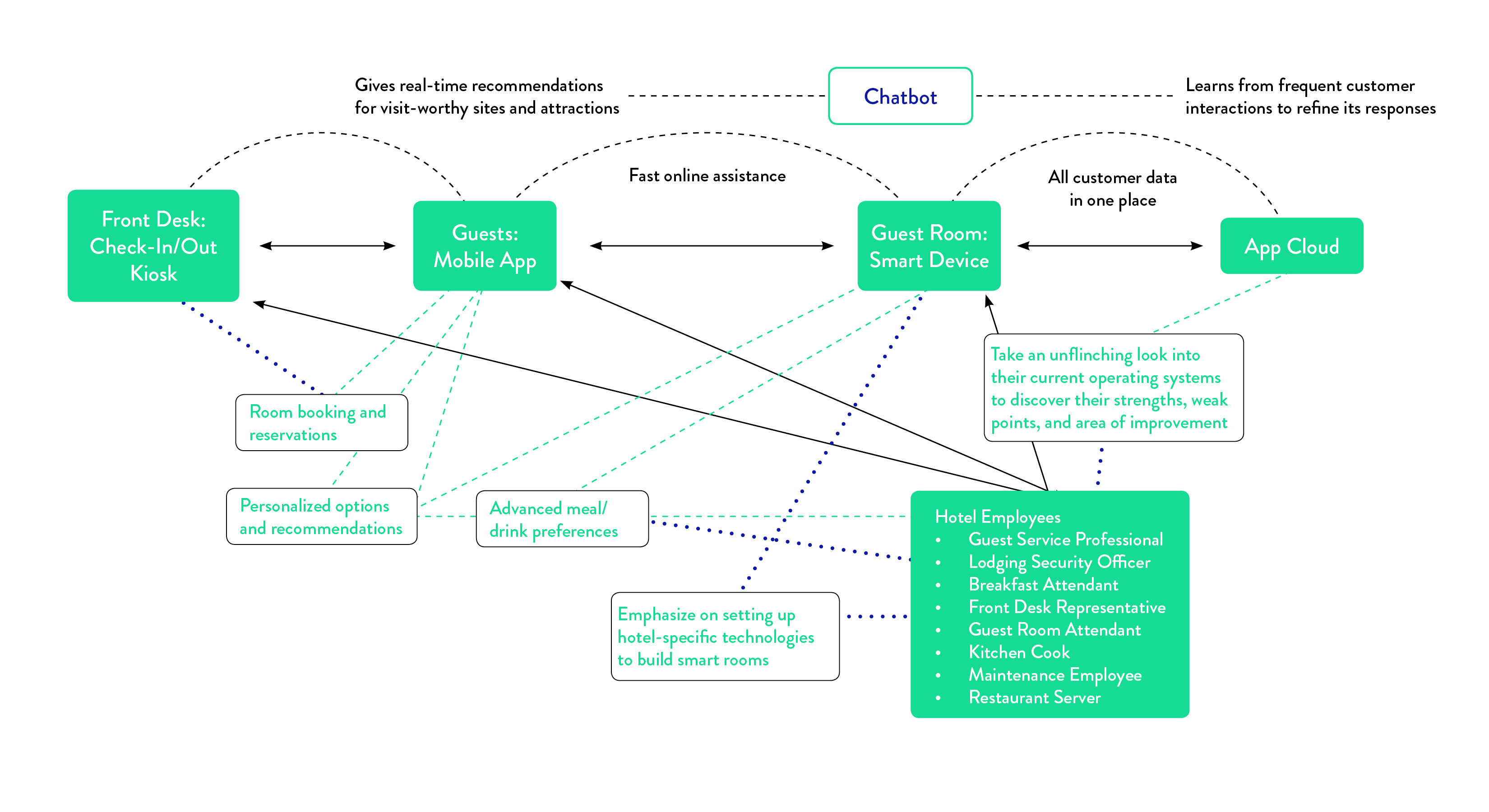 WIREFRAME SKETCHES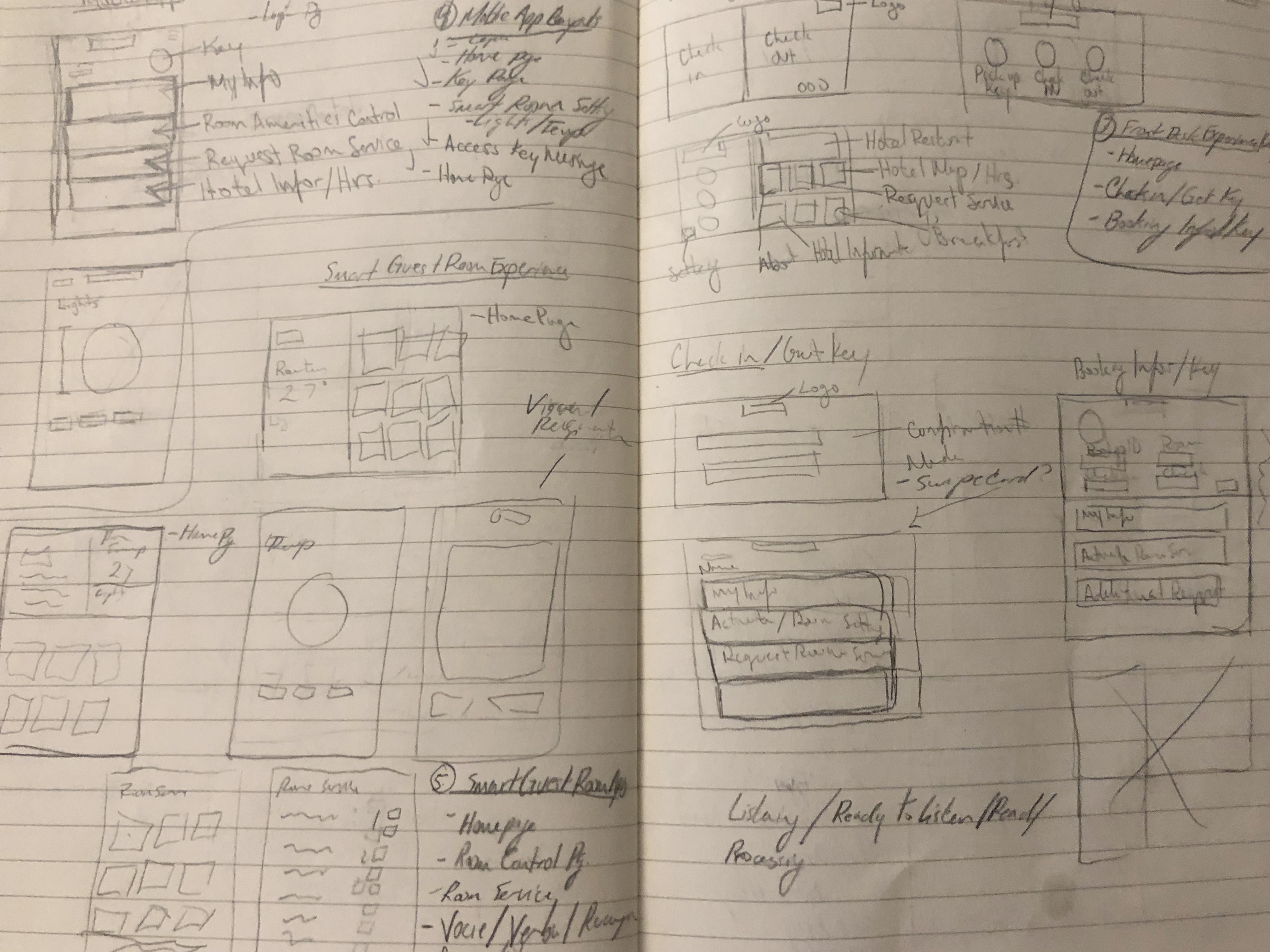 INFORMATION ARCHITECTURE
WIREFRAMES
VISUAL IDENTITY
---
WELCOME DESCRIPTION FOR NEW USERS
The app allows you to control and access your assigned Smart Room by connecting the app to your phone and the device in the room. You will be able to view, add and send a request through the app to the hotel and explore local activities during your stay.


The app collects data information of your previous stays in allowing future use of the app at different locations to help you and their employees to understand your interests giving options and enhance new experiences.
As humans, we are prisoners of the internet and our ability to forget, which manipulates our minds to think of what information is to be kept. By investigating forms of decay within natural systems, this project attempts to treat memory loss as having a discrete value to information, possibly exceeding the assumed imperative of lossless storage over time. By interweaving the bias for lossless digital storage and our often un-acknowledged cultural expectations of mental deterioration, is there a way to be selective in how we experience forgetfulness? My explorations offer the viewer a glimpse into the gap between perfect "digital lucidity" and the mind's altering of reality through natural decay. Using decay as a tool exposes the process of degradation as positive: preserving only information with which we–as ourselves, as "users"–find a deeper relationship.
Media Design Practices
Thesis Project
ROLE
Project Lead
Design Research

CATEGORIES
Artificial Intelligence
Interaction Design
UX
Speculative Design
EXECUTION
Interactive Prototype
Processing
Arduino
Adobe Indesign

TOPICS
Human-Computer Interaction
Natural and Artificial Decay
Memory Loss
EARLY EXPLORATIONS
---
EXPERIENCE FLOW

Through these experiments, I used multiple API(s) to explore different ways of how we input and output information unnoticeably different from what we visually see or say, and how computers can recognize the changes of when these memories occur.
---
PHOTO BOOTH

I used a Photo Booth to create an experience of being placed in a familiar environment, so your surroundings at that moment are being depicted by what the computer registers of who and where you are. Using visual recognition as a tool I wanted to show how someone else might understand these photos than the person who actually experienced it.


---
EYE MOVEMENT
Using eye tracking to measure the positions of your eye in relation to the motion of the head. Using the tracker device in front of your eye I wanted you to focus on these collective images by looking at the wandering eye to show what images are more important to keep alive. Changing how viewers intuitively assign value to digital images and objects of selective memory.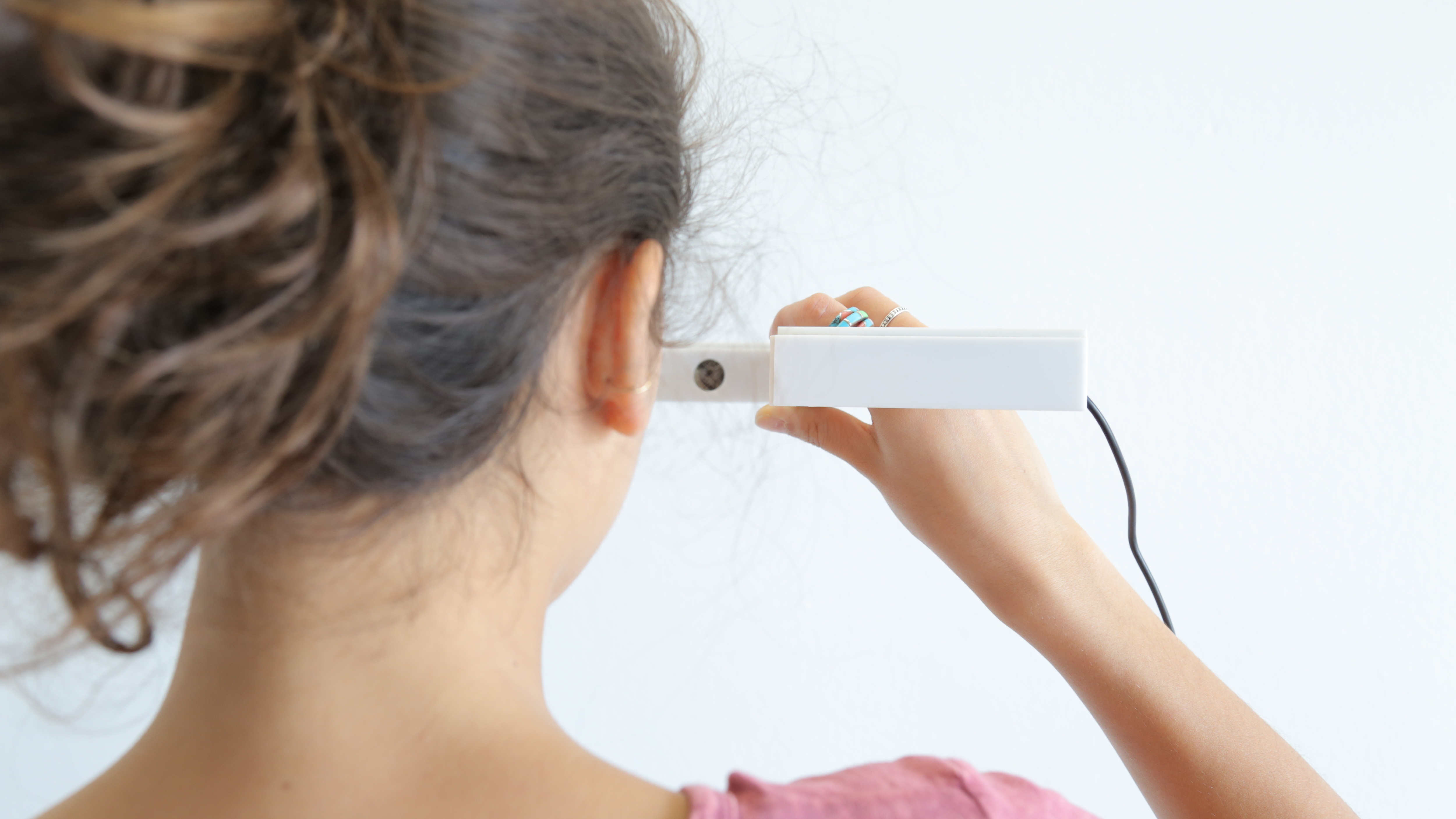 ---
SOUND RECOGNITION

You're also visually realizing that the noise and sounds of your surroundings change your memories, which you might not notice. As seen here the mic picks up the person closest to it but also captures other sounds which translate to text to be a mix of both spatial and closer conversations.
RESEARCH:
https://drive.google.com/file/d/0B3X9w1gSsNRUaXBxMzhvQzdrdTA/view
https://www.smithsonianmag.com/innovation/meet-two-scientists-who-implanted-false-memory-mouse-180953045/
https://blogs.scientificamerican.com/guest-blog/how-to-instill-false-memories/
Fashion For Good is an interactive museum that aims to teach visitors about sustainability innovations in the fashion and textiles industry. Visitors receive an RFID–enabled wristband that they create their own experience and interact with various Action stations throughout the space. They have the ability to design their own T-shirt, take a photo at the Good GIF photo booth, or making commitments to participate to change and contribute in having a more personal sustainable lifestyle.

My role was to help visual design experience from digital interactions to visual graphics and materials throughout the museum. My role was to help visual design experience from digital interactions to visual graphics and materials throughout the museum. Prototyped and used motion design to narrate the user experience for the different interactions would be activated within different kiosk stations, the Infinity Mirror, and printed materials. Worked with a diverse team from architects, creative technologists, content developers, art directors, designers, and producers to communicate and deliver the visual design direction within the team and the client.

Role
Visual Experience Designer
Motion Design

Company
Local Projects

Client
Fashion For Good'

Photos courtesy of Local Projects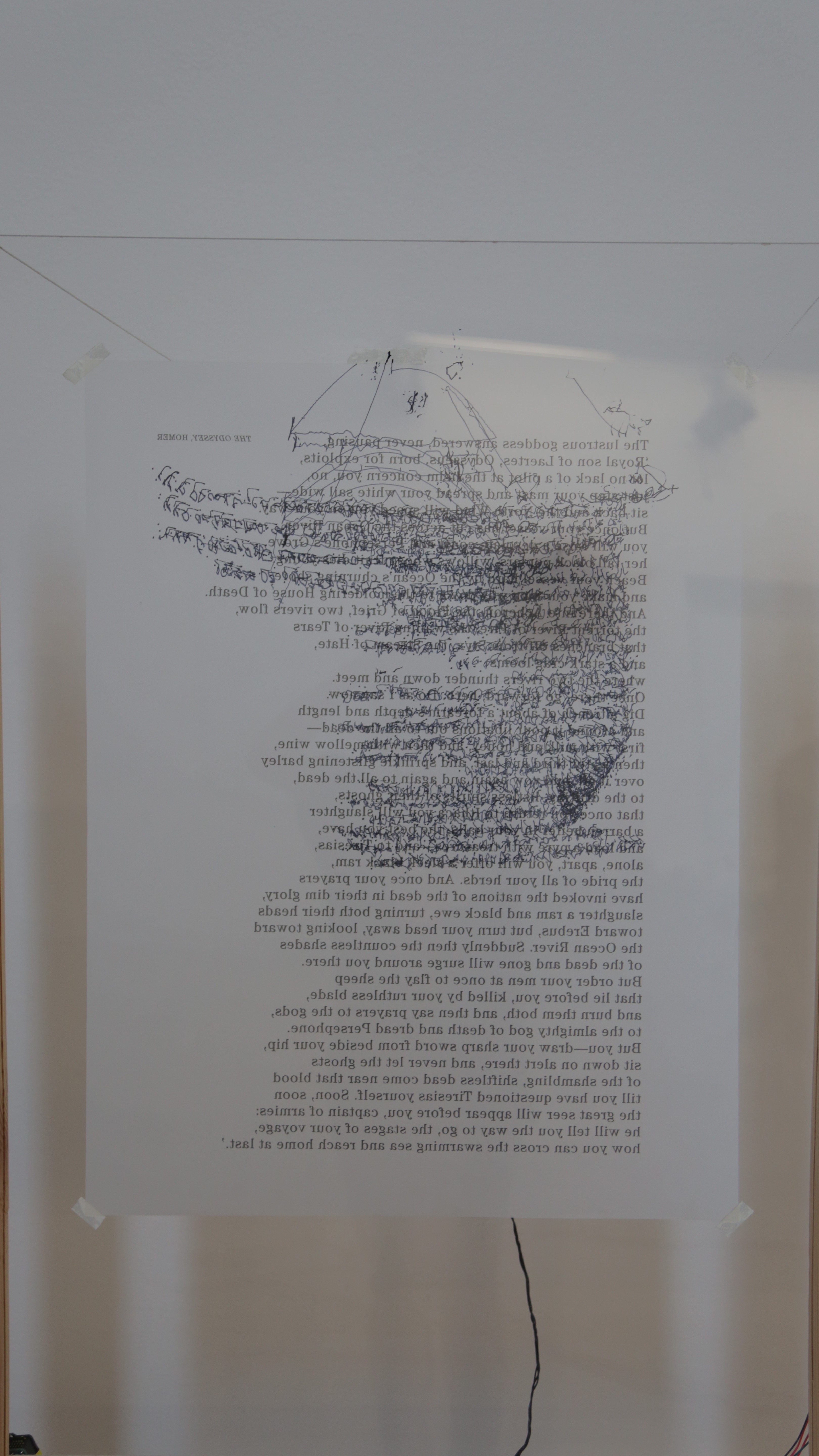 How do we see ourselves receiving and out put information?

Since drawing machines are meant to output a "perfect" copy of the information that we input and teach them to read, but investigate how can degrade a material or scramble the information. Since content is constantly changing, how does technology see itself to be able to continuously use or read the same information?

It's interesting and frustrating at the same time to get different results of what the draw bot would write or leave behind. Depending on when I input the content it would be able to ready it and print out the legible words or it would become scrabbled.
Categories
Machine Learning
Design Research
Rapid Prototyping
Material Studies

Topics
Human-Computer Interaction
Natural Systems
Artificial Decay

Tools
Processing
Arduino
Adobe Illustrator
MATERIAL STUDIES
ThaiWorks is an organization that helps develop products and brand innovation to perverse the values and traditions while advancing the future of Thailand. By creating a digital experience to help express and empower the uniqueness of the culture and enhance the economic well being of Thai Artisans. It is also a way to people from all over the world to connect with Thai artisans and learn the process, and inspirations of their craft.
ROLE
Graphic Design
Motion Design
UI Design

TOOLS
Adobe Creative Suite

COMPANY
Intellectual Capital Investments
ThaiWorks
---
---
THAI VILLAGE