What would a smart device experience be like in a hotel or communal living space?

A virtual concierge service allowing guests to connect with hospitality owners and employees during their stay with various features and tools to enhance their experience within a smart device system. It is designed to be a simple and intuitive experience within the hospitality world, by creating a meaningful connection for guests and enhance new opportunities for employees. This digital experience connects the whole journey of checking-in/out and having access to services and resources provided to explore new spaces during their stay.
Role

Product Lead + Designer

UX/UI

Design Research

Branding & Identity




TOOLS

Adobe XD, Indesign, Illustrator, Photoshop




Categories

Ui/ Visual

Typography

Branding & IdentitY
---
CONCEPT MISSION STATEMENT
To build an experience that is shared by interchangeable users to interact with the services and resources provided during their stay.
WHO:
Digital Smart Design + Lodging Facilities
WHAT:
Simple and Easy access to information and services
WHY:
To Seek, Enhance, and Embrace
WHERE:
Lodging Establishments, Paid Living Quarters, Communal Travelers Space
---
PERSONAL RESEARCH
Through this research, I was investigating the needs that both Employees and guests in comparison to the way people live with smart home devices. To think about how we can incorporate the way people are living in smart homes with sharing these devices with more with one user.
RESEARCH AND SURVEY
Asked an audience to fill a survey and reflect on their interaction within the hospitality world; interacting in a temporarily "home".
EXAMPLE OF HOTELS MISSION STATEMENTS

Hilton–

"To be the most hospitable company in the world–

by creating heartfelt experiences for Guests, meaningful opportunities for Team Members,

high value for Owners and a positive impact in our Communities."

Ace Hotel–

"Ace Hotel is a collection of individuals, multiple and inclusive,

seeking to embrace the cities

we're in by building spaces for collective gathering. Whether thoughtfully reinterpreting historic buildings or imagining radical new structures, our aim is always to

make something energized, human and useful.

"

Airbnb– "

Airbnb's mission is to

help create a world where you can belong anywhere and where people can live in a place,

instead of just traveling to it."
Visual recognition
voice recognition
Chatbot–Messaging
USER FLOWS AND SCENARIOS

USER JOURNEY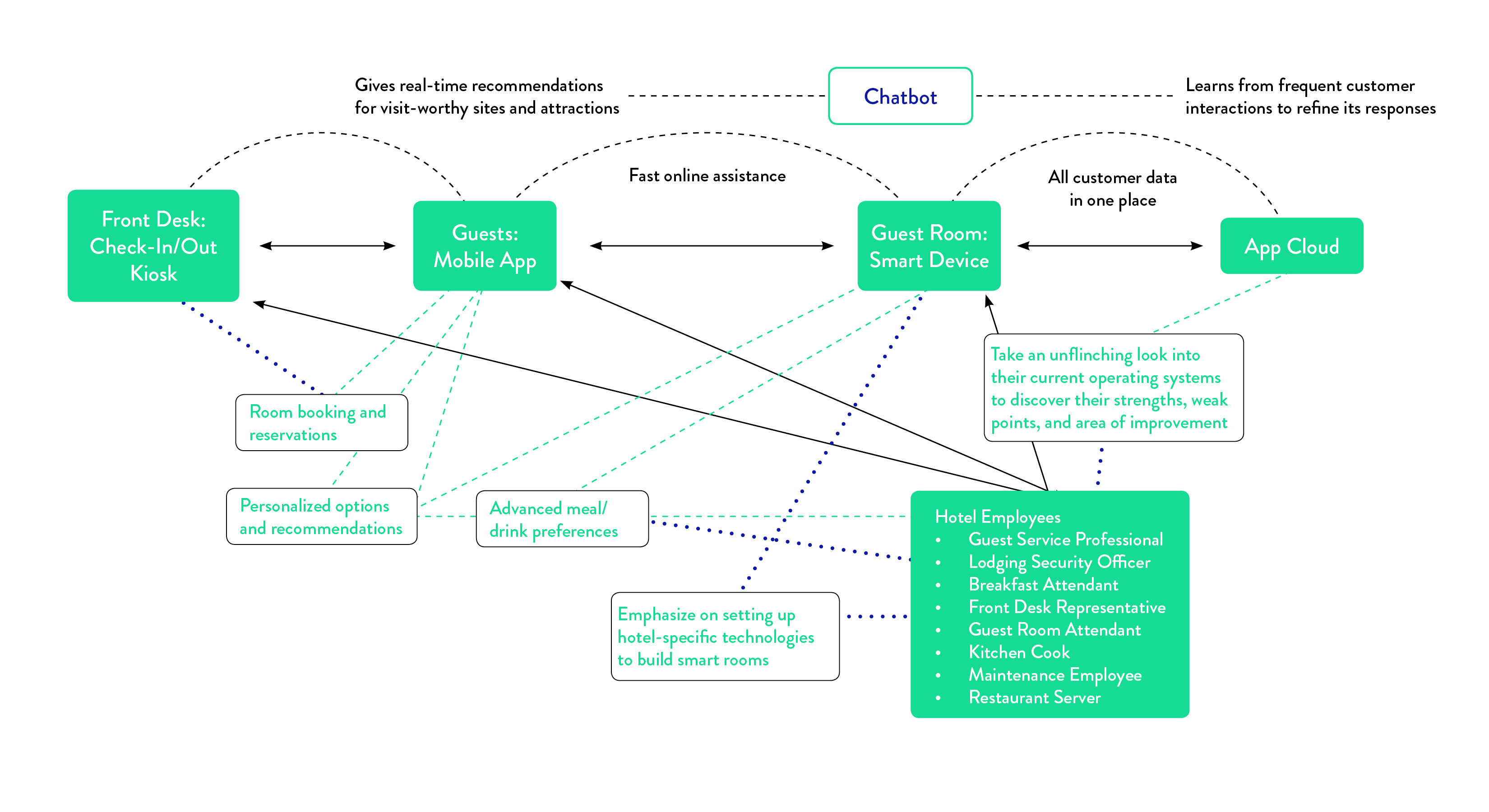 WIREFRAME SKETCHES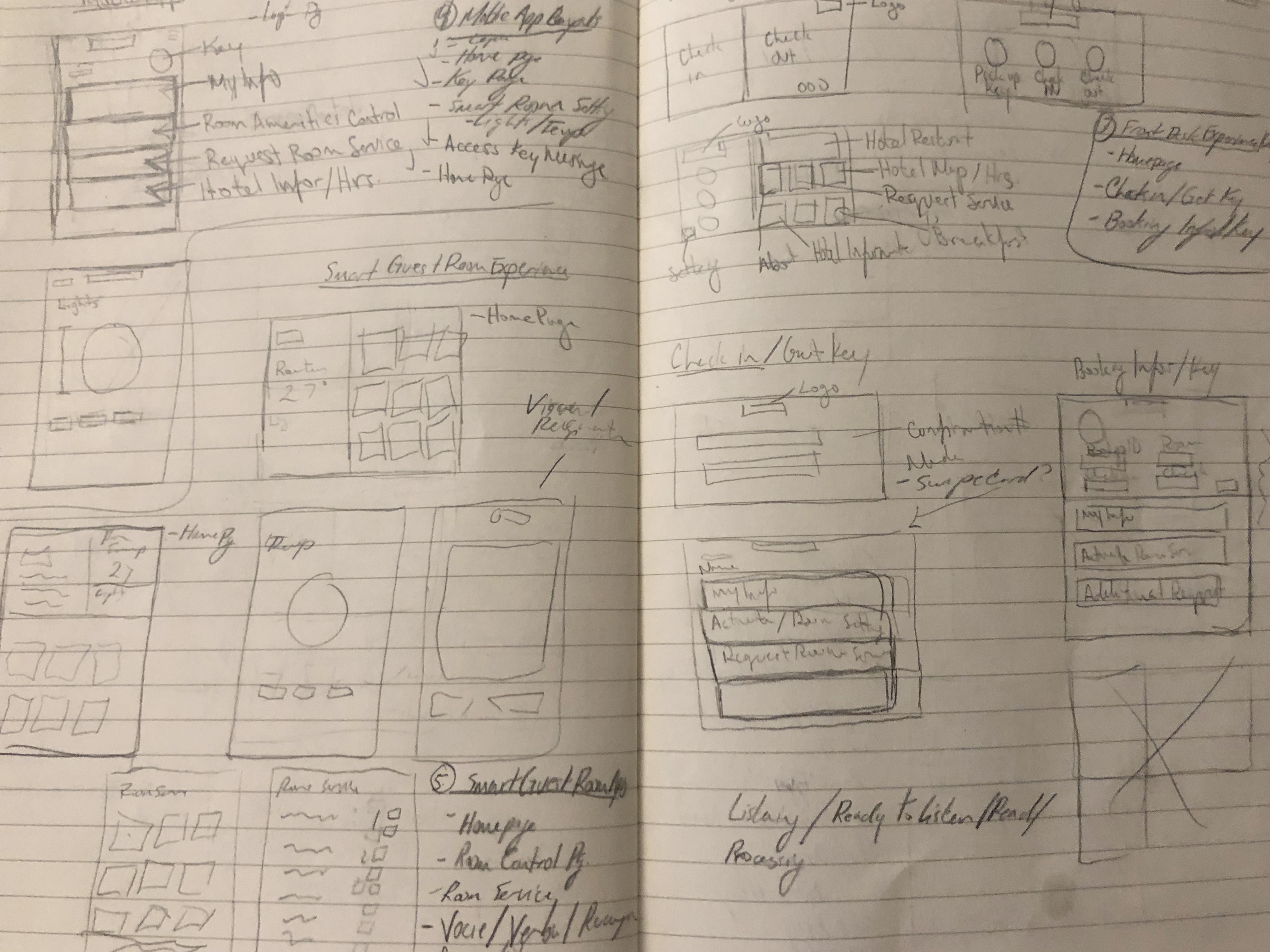 INFORMATION ARCHITECTURE
WIREFRAMES
VISUAL IDENTITY
---
WELCOME DESCRIPTION FOR NEW USERS
The app allows you to control and access your assigned Smart Room by connecting the app to your phone and the device in the room. You will be able to view, add and send a request through the app to the hotel and explore local activities during your stay.


The app collects data information of your previous stays in allowing future use of the app at different locations to help you and their employees to understand your interests giving options and enhance new experiences.